---
Suburban Orange County:
15 Times as Much High Density as Portland

This is a part of the Demographia 1990 US Urbanized Area Density Profile product. Data may be reproduced with appropriate citation.


Data includes all census tracts of 500 or more population per square mile in the urbanized portions of the metropolitan areas

Despite its smart growth policies, Portland (Oregon) remains a rather sparsely populated urban area, with generally low density and lower than average core and corridor densities. This is illustrated by the fact that suburban Orange County, California (Los Angeles area) has a much steeper density profile than that of Portland (chart). In most higher density categories, Orange County is approximately twice as dense as Portland.

Approximately 38 square miles of urbanized Orange County is above 10,000 population per square mile (3,858 per square kilometer), almost 15 times. Portland's 2.7 square miles.
Percentage of Land Area
Orange County
Portland
Orange County Compared to Portland
Most Dense Census Tract
40,886
22,858
1.8
Most Dense 1%
22,401
11,384
2.0
Most Dense 10%
12,563
7,322
1.7
10% to 20%
8,443
4,827
1.7
20% to 30%
6,943
3,795
1.8
30% to 40%
5,800
3,031
1.9
40% to 50%
4,508
2,363
1.9
50% to 60%
3,499
1,873
1.9
60% to 70%
2,905
1,394
2.1
70% to 80%
2,348
1,076
2.2
80% to 90%
1,464
863
1.7
90% to 100%
829
716
1.2
Data includes all census tracts of 500 or more population per square mile in the urbanized portions of Los Angeles (Los Angeles and Orange counties) and Portland (Clackamas, Clark, Multnomah and Washington counties)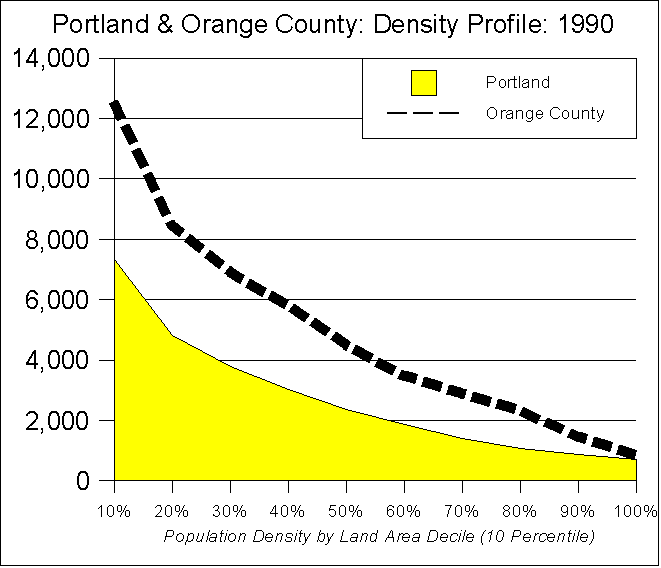 <!###DEMOGRAPHIA FOOTER AT 010403>
(c) 2001 www.demographia.com --- Wendell Cox Consultancy --- Permission granted to use with attribution.


Demographia is "pro-choice" with respect to urban development.
People should have the freedom to live and work where and how they like.

DEMOGRAPHIA
is an undertaking of
WENDELL COX CONSULTANCY
P. O. Box 841 - Belleville, IL 62222 USA
Telephone: +1.618.632.8507 - Facsimile: +1.810.821.8134


E-Mail: enquiries@demographia.com


Demographic Briefs | New Items | Book Store | Subscribe (Free)

Corrections Policy, Rights & Permissions

Related Web Site:



THE PUBLIC PURPOSE
Internet Public Policy Resource