Sao Paulo Subprefeituras (Districts)
Area & Population
Subprefeitura
Population
Square Kilometers
Density
Square Miles
Density
CENTRO
373,160
26.2
14,243
10.1
36,889
9
Se
373,160
26.2
14,243
10.1
36,889
CENTRO SUL
742,331
78.1
9,505
30.2
24,618
12
Vila Mariana
311,019
26.5
11,737
10.2
30,398
14
Santo Amaro
217,212
37.5
5,792
14.5
15,002
15
Jabaquara
214,100
14.1
15,184
5.4
39,328
LESTE A
1,546,499
158.0
9,788
61.0
25,351
21
Penha
472,247
42.8
11,034
16.5
28,578
22
Ermelino Matarazzo
204,315
15.1
13,531
5.8
35,045
27
Itqauera
488,327
54.3
8,993
21.0
23,292
30
Sao Mateus
381,610
45.8
8,332
17.7
21,580
LESTE2
1,182,959
78.8
15,012
30.4
38,882
23
Sao Miguel
377,540
24.3
15,537
9.4
40,240
24
Itaim Paulista
358,888
21.7
16,539
8.4
42,835
28
Guaianases
255,976
17.8
14,381
6.9
37,246
31
Cidade Tirandentes
190,555
15.0
12,704
5.8
32,902
NORDESTE
1,198,789
148.9
8,051
57.5
20,852
4
Casa Verde/Cachoeirinha
313,176
26.7
11,729
10.3
30,379
5
Santana
327,279
34.7
9,432
13.4
24,428
6
Tremembe/Jacana
255,435
61.1
4,181
23.6
10,828
7
Vila Maria/Vila Guilherme
302,899
26.4
11,473
10.2
29,716
NORDOESTE
890,704
143.4
6,211
55.4
16,087
1
Perus
109,218
57.2
1,909
22.1
4,945
2
Pirituba
390,083
54.7
7,131
21.1
18,470
3
Freguesia/Brasilandia
391,403
31.5
12,425
12.2
32,182
OESTE
916,843
127.9
7,168
49.4
18,566
8
Lapa
270,102
40.1
6,736
15.5
17,445
10
Butanta
375,943
56.1
6,701
21.7
17,356
11
Pinheiros
270,798
31.7
8,543
12.2
22,125
SUDESTE
1,512,280
127.5
11,861
49.2
30,720
13
Ipiranga
409,126
37.5
10,910
14.5
28,257
25
Mooca
305,436
35.2
8,677
13.6
22,474
26
Aricanduva
269,580
21.5
12,539
8.3
32,475
29
Sapopermba
528,138
33.3
15,860
12.9
41,077
SUL
2,314,208
325.8
7,103
125.8
18,397
16
Cidade Ademar
359,296
30.7
11,703
11.9
30,312
17
Campo Limpo
913,018
98.8
9,241
38.1
23,934
18
Mboi Mirim
480,823
62.1
7,743
24.0
20,054
19
Socorro
561,071
134.2
4,181
51.8
10,828
20
Parelheiros
110,909
353.5
314
136.5
813
MUNICIPIO
10,788,682
1,568.1
6,880
605.4
17,819
HIGHLY URBANIZED SUBPREFEITURAS
Excludes 1, 6, 19, 20
9,752,049
962.1
10,136
371.5
26,253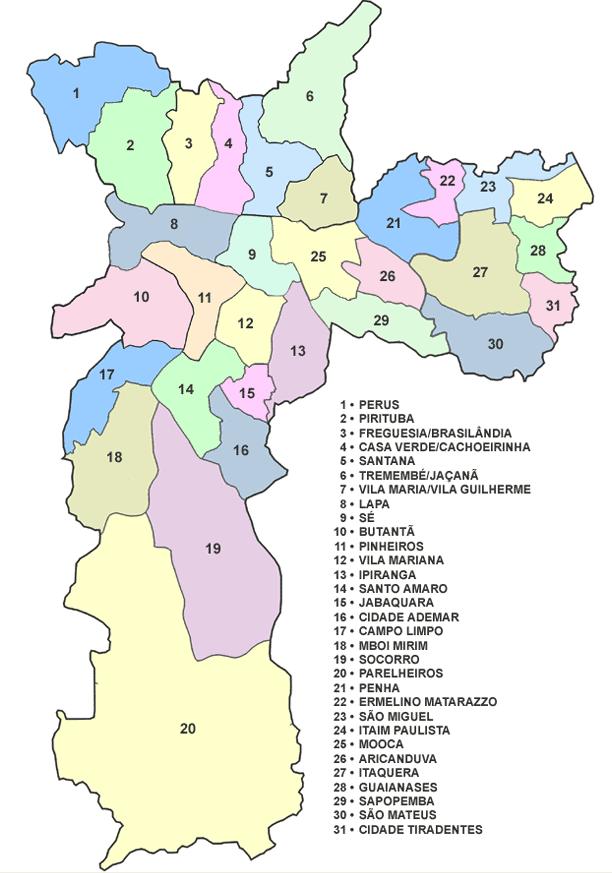 <!###DEMOGRAPHIA FOOTER AT 2003-09-28 rental car>
Demographia is Affiliated with The Public Purpose, A Top National Journal Internet Site

Demographia is "pro-choice" with respect to urban development.
People should have the freedom to live and work where and how they like.
DEMOGRAPHIA and THE PUBLIC PURPOSE
are undertakings of
WENDELL COX CONSULTANCY
P. O. Box 841 - Belleville, IL 62222 USA
Telephone: +1.618.632.8507 - Facsimile: +1.775.521.8564
Send E-Mail


(c) 2003 www.demographia.com --- Wendell Cox Consultancy --- Permission granted to use with attribution.